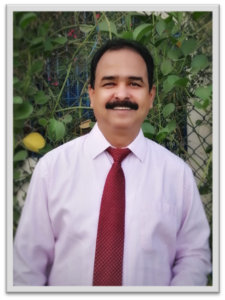 Dr. S Srinivasan is an academician with more than 30 years of experience in the field of education in reputed schools in India and Oman. In his long illustrious career he has grown from being a teacher to Principal and has worked in all the positions as HOD, Asst. Vice Principal and Vice Principal.
As a Mathematics teacher he has motivated many students across the globe to master the subject successfully.  He has developed a mathematics Laboratory in the schools he worked. He was awarded more than 20 times by the school management for his best results and his additional contribution to the schooling systems. He had also been the award leader and in-charge of IAYP during the period from 1999 to 2016 ( Duke of Edinburgh's International Award).
He was also the recipient of Navin Asher Kazi Award  for the best teacher in Oman (Senior category) –  awarded by H E J S Mukul, former Ambassador of India to the Sultanate of Oman for the academic year 2014-15. The award was instituted by the Board of Directors of CBSE Schools in Oman. He was also the recipient of the Meritorious Achievement Award awarded by the Board of Directors for Indian Schools in Oman.
He can be reached at [email protected]
Indian School Sur,
P.O. Box :158,
Postal code:411, Sur Sultanate of Oman