"The object of education is to prepare the young to educate themselves throughout their lives." – Robert Maynard Hutchins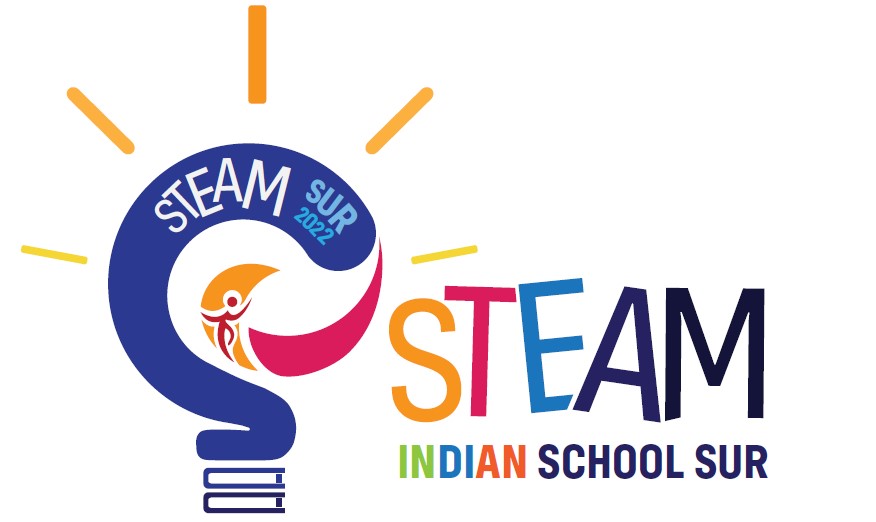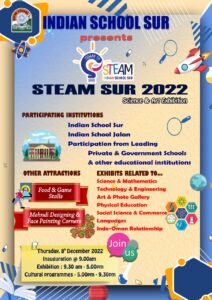 With the prime objective of motivating and inculcating a scientific approach in the minds of the students, Indian School Sur has planned to introduce our students to a world of innovation and experimentation through STEAM SUR 2022. We intend to develop scientific temperament and logical reasoning among inquisitive minds. 
Competency is a set of skills, abilities, knowledge that help an individual perform a given task in real life. Every learning should go into the imbibing of skills that will help the individual to perform diversified tasks. 
The entire departments of Indian School Sur will display a multitude of exhibits integrated with art pertaining to the prescribed curriculum design of the CBSE.  Spicing up the excitement, STEAM SUR 2022 has been planned as an interdepartmental competition among the various departments of the school including the Languages (English, Hindi, Arabic & Malayalam), Mathematics, Science and Social Science. Other exhibits from the department of Commerce, Art, Information Technology, Physical Education, Psychology and Photo gallery will remain as non- competitive events. 
Art-Integration is a cross-curricular pedagogical approach that utilises various aspects and forms of art and culture as the basis for experiencing the learning of concepts across subjects. As a part of the thrust on experiential learning, art-integrated education has been embedded in classroom transactions not only for creating joyful classrooms, but also for imbibing the Indian ethos through integration of Indian art and culture, cross-cultural interaction in the teaching and learning process at every level. 
The event will be a meeting place for innovators to share radical ideas and technologies that will transform society and the economy. The exhibition combines exhibits from various schools and colleges in Oman. To enhance parents' collaboration in the school activities we have invited the parent community to volunteer and utilise this opportunity for harnessing their innate talent and creativity by putting up stalls along with us. 
A logo is not just a communication; it is an identification and the silent ambassador of an idea. The logo of STEAM SUR 2022 was unveiled by Mr. Mohamed Ali Musallam Al Alawi, the Section head, Department of Lands, Ministry of Education, Sur on 21st November 2022 in the presence of the School Management Committee members, the Principal, teachers, staff and students.