E- MUN MIDDLE EAST THE SDG SUMMIT–REPORT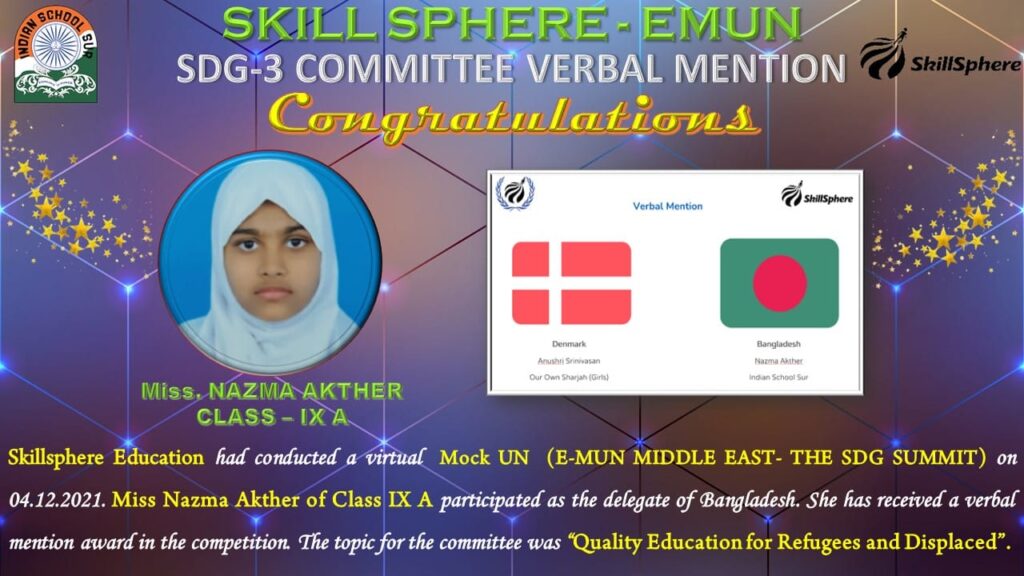 Skillsphere education had
 conducted a Mock UN on 04.12.2021 to sensitize students in a
proactive way towards different Sustainable Developmental 
Goalas(
SDGs). 10 students from
Indian School Sur participated in the conference. One of our students 
Nazma Akhter
of
class IX A 
received a
 verbal mention 
from the 
team 
.
The Skillsphere team conducted
3 training sessions to to make the students familiarize with the MUN.
The conference had 5 committees and students represented different countries in each
committee.  Each one of them enthusiastically participated in the event and involved in the
discussions. The team appreciated the efforts taken by the students. It was 
a  experience
 for
the students where they learnt the process of conduction of MUN.
Indian School Sur,
P.O. Box :158,
Postal code:411, Sur Sultanate of Oman