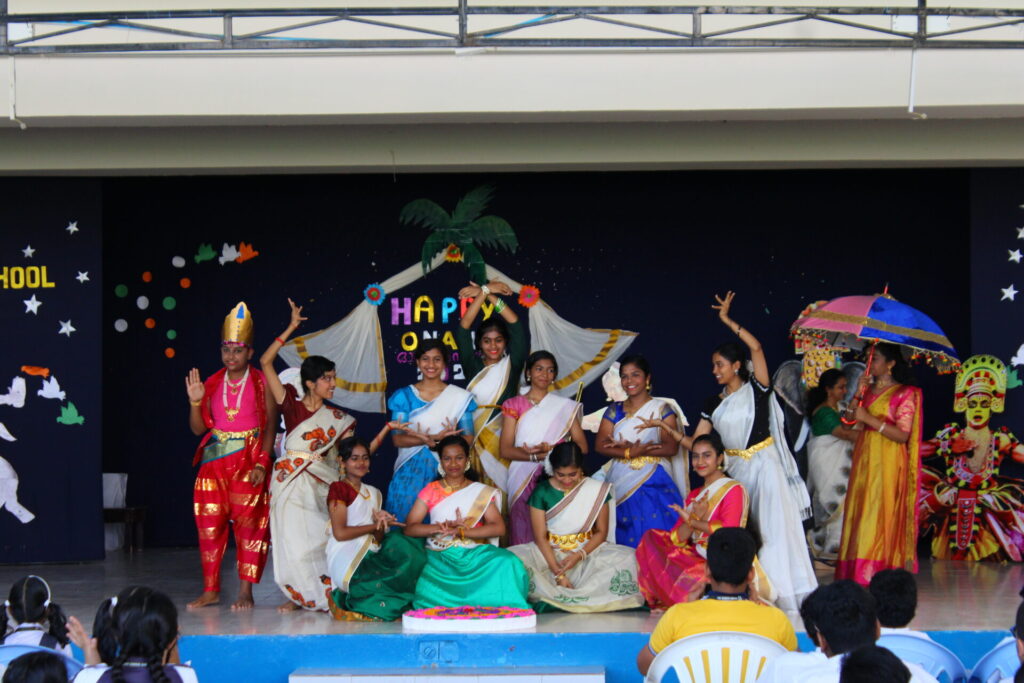 Indian School Sur celebrated Onam with great enthusiasm and traditional fervor on 28th August 2023. The event featured a series of captivating performances, showcasing the rich cultural heritage of Kerala, the southern state of India. The celebration not only involved the students and teaching staff, creating a sense of unity and togetherness. The celebration commenced with a prayer, setting a spiritual tone for the event. Fathima Marwa of class IXA, delivered a speech highlighting the significance and history of Onam. This was followed by Rinsha, a student from class 7, who recited a poignant poem about Onam. The highlight of the literary presentations was the rendition of a famous poem about Onam by renowned poet Murugan Kattakada.
The cultural extravaganza continued as the students from the 4th class sang a melodious Onam song, filling the atmosphere with festivity. Students from classes 7 to 9 mesmerized the audience with beautiful songs dedicated to Onam. Mrs. Deepa, the Malayalam teacher, shared insights about Onam's cultural and historical importance, enhancing the audience's understanding.
One of the most memorable moments of the program was a stunning dance performance by class 9 students. The dance portrayed the legendary story of Mahabali and Vamana, and it was a visual treat for everyone in attendance. The school principal acknowledged the students' efforts and congratulated them for their splendid performances. The program concluded on a patriotic note with the singing of the National Anthem.
On 16th September 2023, Indian School Sur extended the Onam festivities to include teachers and their families. The event was marked by vibrant cultural performances and a sumptuous Onam feast. The teaching staff played a pivotal role in preparing the delectable dishes for the Onam feast, showcasing their culinary skills. The feast was a grand treat, featuring an array of traditional dishes that are synonymous with Onam, such as sambhar, aviyal, thoran, and various payasams.
The celebration fostered a sense of unity and belonging among the school's community, as it provided an opportunity for teachers, students, and their families to come together and celebrate as one large family. Children and family members of the staff actively participated in the program, adding to its special charm. The cultural programs included traditional Thiruvathira dance, a graceful and synchronized dance form that is an integral part of Onam celebrations. The group and solo songs added a musical touch to the festivities, with participants showcasing their vocal talents.
Following the feast and cultural performances, special Onam games were organized to engage the audience. Games like tug of war and musical chairs added an element of fun and competition to the celebration, spreading joy and laughter. The Onam celebrations at Indian School Sur on both 28th August and 16th September 2023 were a resounding success, showcasing the school's commitment to preserving and promoting India's rich cultural heritage. These events not only celebrated the spirit of Onam but also strengthened the bonds within the school's community, creating lasting memories for all involved.
Indian School Sur,
P.O. Box :158,
Postal code:411, Sur Sultanate of Oman