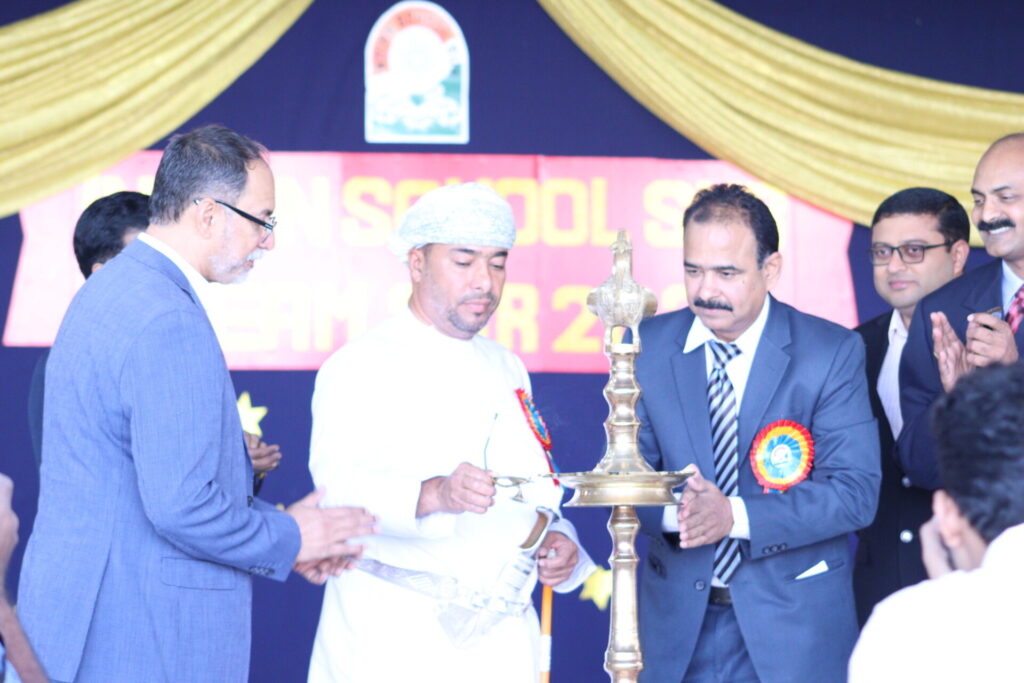 Indian School Sur successfully organised its first edition of STEAM SUR '22, a Science, Technology, Arts and Mathematics Exhibition held on 8th December 2022. The mega event was inaugurated at 09.00 a.m. by the honourable chief guest Mr Abdullah Hamad Al-Oraimi, Director of the Private Schools Department, Sharqiya Region, Ministry of Education, who was joined by Mrs Mariam Al Mukhaini, Assistant Director, Ministry of Education.
The Arts & Science exhibition combined exhibits from Omani and Non-Omani Schools and various Arts & Science Colleges in Oman. The event gave the student community a unique and diverse opportunity to practice and showcase what they have learnt in classrooms and ignite the creativity and innovation innate in children, transforming them into competent, confident visionaries. The chief guest appreciated the students and staff for organising such a big mega event to benefit the whole student community. Appreciation Certificate was given to all the participating schools by the chief guest. As a token of love and benevolence, a memento was given to the chief guest by the Principal in the presence of school management committee members.
Dr S Srinivasan, Principal Indian School Sur, in his inaugural address, articulated that the prime motive behind STEAM SUR '22 was to uphold the spirit of Art and Science and artistic creativity to be facilitated for societal redemption and to imbibe good values from education. Furthermore, learning by doing and pairing with the peer group will inculcate creative work and group dynamism among the students. He added that it's a novel technique for students to engage in active learning and acquire adequate understanding of Science, Technology, Engineering, Art, and Mathematics. Alternatively, the program facilitated skills essential in moulding young minds, including academic writing, verbal, written and public communication, and problem-solving skills. Subsequently, he opined that engaging students of this type would allow them to fulfil the vision of Indian School Sur, where every parent wants the child to be and loves being.
Mr. Mohammed Ameen, President of the School Management Committee, shared the opinion that the goal of such an event is to foster soft skills like teamwork among students as they collaborate to accomplish shared objectives. He continued by saying that the exhibition aligns with the school's aim to create and offer a reflective and responsive education to support a child's holistic development. The cooperation between Omani and Non-Omani universities and schools served as a prime illustration of the close ties that the Indian community has with the Sultanate of Oman.
An array of exhibits were displayed from 9.30 to 5.00 p.m. and was open to the general public, followed by cultural events. The audience was spellbound by a series of cultural fiesta comprising of dance, songs and skits performed by students of Indian School Sur and by other Omani and non-Oman Schools and colleges and parents. The stunning performance mesmerised the audience.
School Management Committee members, Mr Srinivas Rao, Adv Saeed T P, Mr Pradeep Kumar A V, and Principal Dr S Srinivasan thanked all the dignitaries, participants, staff and the representative of all Omani and Non-Omani schools for their enthusiastic participation and for making the programme a grand success. They further expressed their indebtedness to all the sponsors for their continuous support.
For more details, visit https://indianschoolsur.com/steam-sur/
Indian School Sur,
P.O. Box :158,
Postal code:411, Sur Sultanate of Oman