31st ANNUAL ATHLETIC MEET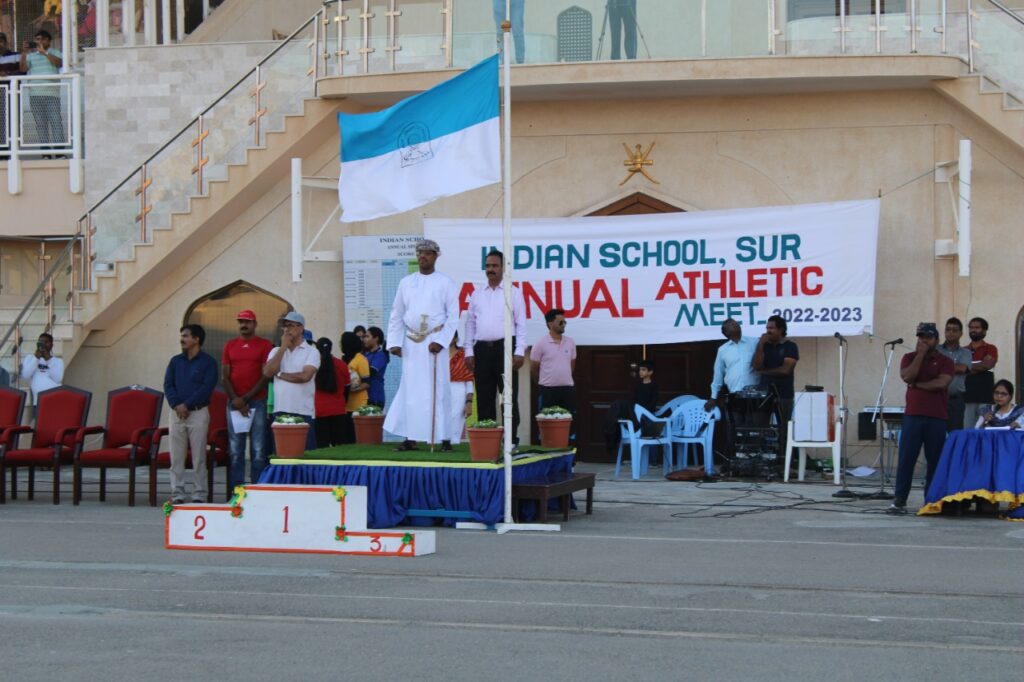 The 31st Annual Athletic Meet of Indian School Sur concluded in true gamesmanship recently. The ceremony was graced with the esteemed presence of the honourable chief guest Mr. Khalid Bin Hamad Al Orimi, Assistant Director of Sur Sports Complex. The chief guest articulated that sports have profound significance in students' lives as it helps develop physical fitness and inner qualities like patience and perseverance. He congratulated the School Management Committee Members, principal, staff and students for successfully conducting the Annual Sports Meet. Earlier, the three-day athletic meet was inaugurated by the chief guest, Mr. Ifthekar Ali Khan, Director Operations, OMIFCO Sultanate of Oman.
The Championship Trophy of the 31st Annual Athletic Meet of Indian School Sur was clinched by the Red House. The individual champions in all categories were awarded trophies and medals. Uthara Abhilash Nair of class VIII A has been conferred the title of the best athlete of the year 2022-23 for her exceptional track record in inter and intra-school sporting events. The Chief Guest awarded prizes to the winners.
The President SMC Mr. Mohammed Ameen lowered the flag and declared the closure of the sports meet. The closing ceremony was made auspicious with the presence of the members of the School Management Committee Mr. Jami Srinivasa Rao, Convener, Adv. Saeed T P, Treasurer and Mr. Pradeep Kumar A V, Chairman Academic Sub-Committee.
Mr. Mohammed Amin, President SMC said, 'sport brings synchronicity between intention and action. In addition, the students will change their personalities and move out of their comfort zone for events that do not match their talents and passions to achieve the best possible results. All these can only be achieved through teamwork and unity.
Dr S Srinivasan, Principal of Indian School Sur, acknowledged the staff and students for their persistent and untiring effort, which made the event a grand success. He emphasised the importance of maintaining a balance between sports and academics for overall development.
The curtains to the 31st Annual Athletic Meet of Indian School Sur were brought down as the school captain Master Azain Khalid handed over the school flag to the school principal.
Indian School Sur,
P.O. Box :158,
Postal code:411, Sur Sultanate of Oman