Hindi is considered one of India's most essential and significant languages. Hindi Diwas is celebrated on September 14th to honour the language and to commemorate the event when it was adopted as one of the official languages of India. The key aim of celebrating Hindi Diwas is to promote the importance and usage of the Hindi language worldwide.
The staff and students of Indian School Sur celebrated Hindi Diwas on September 15th, 2022, at school to acknowledge HINDI as the National Language. A special assembly on the same day marked the occasion that began with a thought by the students of class 9, followed by News, recitation, speech, group dance and group song. The students were asked questions related to Hindi. Our beloved principal Dr. S Srinivasan addressed the gathering by enlightening the students by providing various insights on the historical background of Hindi language's popularity.
As a part of the Celebration, the Hindi Department organised a Hindi Handwriting Competition for the students of Classes 1 – 8 and a News Reading Competition for classes 9 and 10.
Under the guidance and supervision of our Principal, the Hindi Department organised the assembly and conducted the competition class wise. Hindi Diwas celebration inspires us to value the Hindi language and infuses love for it. Hindi Diwas is thus a day to rejoice in this rich language. The events organised on Hindi Diwas are an excellent way to invoke respect for this language and promote its use in the country.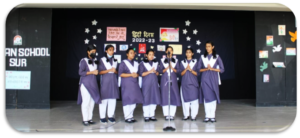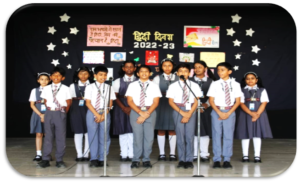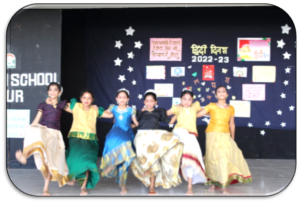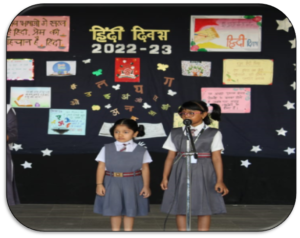 Indian School Sur,
P.O. Box :158,
Postal code:411, Sur Sultanate of Oman