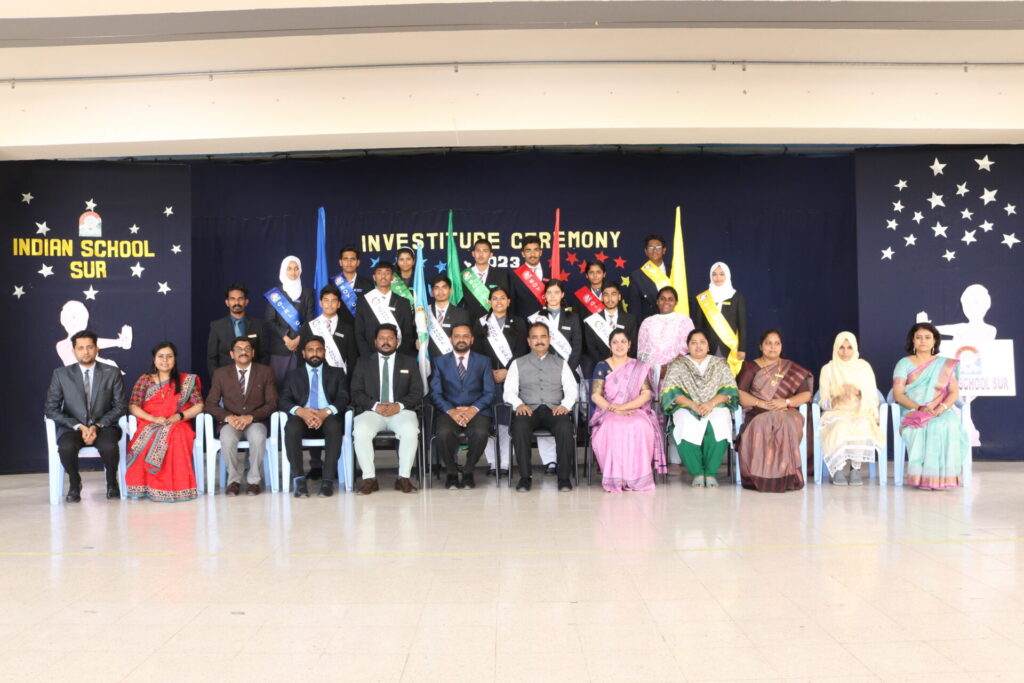 Indian School Sur, conducted the investiture ceremony of the elected school council for the academic year on May 10th, 2023 with great zeal and enthusiasm. The investiture ceremony was an opportunity for the school to set expectations for its student council members ensuring that the student council members understand the expectations placed upon them and are motivated to perform their duties to the best of their abilities. The ceremony proved to be not just a celebration of leadership, but a commitment to cultivate and nurture the next generation of responsible and empathetic leaders. The ceremony commenced with an invocation seeking the blessings of the divine, as presented by the school choir team.
Miss. Insha Kamran of class ten delivered the welcome address, followed by the presentation of the school flag by our esteemed principal, Dr. S. Srinivasan, to Mast. Mohammed Zaki, Head Boy, and Miss Keerthana C.S, Head Girl. Subsequently, the house masters presented the house flags to the boy captains, and the house mistresses presented the placards to the girl captains of all four houses.
Mr. Jami Srinivas Rao, President of the SMC, conferred the sashes and badges upon the school council members. Handing over of sashes to the captains and pinning of badges for Green house office bearers was rendered by Adv. T.P. Saeed, Convener, SMC. Mr. Shabeeb Mohammed, Member, SMC conferred the sashes and badges for the Red house office bearers. Handing over of sashes to captains and pinning of badges for the Yellow house was done by Mrs. Nishreen Basheer, Member, SMC.
The oath-taking ceremony of the prefectural council was administered and led by the principal, Dr. S. Srinivasan. After the oath-taking, the school choir team delivered a captivating rendition of the song "I Have a Dream" by Abba. Mast. Mohammed Zaki, Head Boy, delivered an induction speech, followed by an acceptance speech by Miss. Keerthana C.S, Head Girl. The prefectural heads pledged their solemn commitment to lead the school, setting an example and bringing out the best in others.
Mr. Jami Srinivas Rao, President of the School Management Committee, delivered the presidential address. Mr. Rao in his address told that working together, the stakeholders along with the student council of the school, have an opportunity to make a positive impact on the school community and to leave a lasting legacy that future generations of students can be proud of. The president also emphasized that the school council is not just a platform for personal achievement or recognition, but a genuine opportunity to make a difference in the lives of fellow students. Miss. Karis Stafrina of class ten presented the vote of thanks for the program, which was followed by a photo session of the prefectural council, house in-charges, and other office bearers of the school.
Indian School Sur,
P.O. Box :158,
Postal code:411, Sur Sultanate of Oman